Opportunities in Killingly
Killingly Industrial Park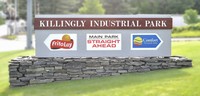 Killingly is home to the Killingly Industrial Park, at Exit 43 off Interstate 395. More than 3200 employees work for thriving companies located here, occupying a total of 2,100,000 square feet of space.  Click here for Industrial Park Map.
The Killingly Business Association
The Killingly Business Association is an active merchants group, located in the heart of the Killingly Historic District, which embraces the spirit of Killingly - that is everyone working together for the betterment of all. Through events and promotions the group promotes thriving retail activity. Here you will find many unique items to purchase, service agencies for your every need, and dining establishments that are exceptional. Click here to visit their website for more information.
Step Up Program Gives Small Employers an Incentive for Hiring
The new Step Up Program, designed to spur job creation and business expansion, offers attractive hiring incentives to Connecticut-based small businesses and small manufacturers with less than 50 full-time employees. 
Overseen by the Department of Labor and Office of Workforce Competitiveness, the program is being administered locally by the Eastern CT Workforce Investment Board (EWIB), headquartered in Franklin. The State has authorized a total of $20 million for the program over the next two years.